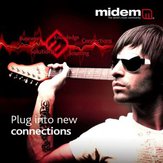 In 7 years of creating the campaigns for Midem, we have seen the world of trade fairs transform at an unbelievable rate. It's not unfair to say that many trade fairs until recently had been seen by their organisers pretty much a way of renting space to companies. Yet Midem, part of the Reed MIDEM group [update: it has since been acquired by a French group], has blazed a trail and is re-inventing the way trade fairs see themselves and engage with their audiences.
Central to Midem's philosophy is the idea of "community". Now this is a word that is bandied about a lot, and in many marketer's minds, it still translates as "target group". If that is your approach, please call us! Trade fairs such as Midem are fighting tooth and nail to provide a leading role for the industry that it serves, music. For Midem, it transpires through the visuals (which we work hard to develop with the talents of Guy Stevens of Pix&Com and Consor), the pricing (they froze many prices several years ago), the number of services and conferences they provide and – new this year – the way they communicate. It's not a little add-on, such as a Twitter button! You have to go further.
If your trade fair has been getting by on a few e-mails and brochures, expect the worst. It is vital that you keep a closer eye on what is happening within the business, and that you have systems in place to actively identify and pursue the various groups of people that can make the difference between a busy event or empty corridors – or profit and loss, if you prefer.
To quote from our 2008 Midem campaign, trade fairs and conferences have to think louder. Midem is interesting. As it serves the music business, it has been dealing with a ferociously difficult market for the past 5 years at least. And when the going got tough, Midem responded in kind. But I can't help feeling many trade fairs will suffer from the downturn, rather than recognising it as an opportunity for the industry as a whole to re-define its way of functioning and relationship with its participants.
We also worked on the EAS 2009 in Amsterdam, which was very successful (not just because of us!). If you are involved in organising events such as this, we really think we should be talking. Call me on +32/496/62 68 43.