I remember when it was held as a truth that the written word was dying and the world would communicate visually. Luckily for writers, the Cannes film festival is there to remind everyone that in the beginning was the word. And not only are words essential to get a story moving, they are also there at every step of the way when it is pitched to a producer, who then pitches to co-producers and financiers, before pitching it to distributors and later the press.

Every year, Cannes produces mountains of newspapers, magazines, brochures, one-sheets, newsletters, treatments and – more recently – Tweets! We've been lucky enough to work several times for clients at the Cannes film festival, starting with Stella Artois about ten years ago. We also worked for MIPCOM, MIPTV and the Junior and documentary versions. We've written newsletters, pitches, treatments, produced brochures and now run the foremost web site for visitors to Cannes at Cannes-or-bust.
For television, we wrote the FilmNet movie guide for two years solid, producing what were in effect thirty 50-word pitches for their subscribers every month. I learnt something very useful doing this: it was our job to give people the impression there were loads of great movies to watch each month and turn on their TVs. But it was up to the director to hold the viewers' attention beyond 5 minutes. And this is in essence one of the "secrets" of pitching. You first have to perfectly understand your role and your goal – and the smaller and more precise it is, the better.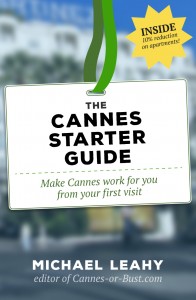 What constitutes a small, attainable goal? If you're pitching verbally – the most nerve-wrecking but potentially powerful form of  pitch – I'd say the one goal you should focus on is getting permission to follow up. Why? In a busy environment such as Cannes, people are bombarded with ideas and have to deal with pushy but often completely irrelevant people. By accepting to hear a pitch, your contact is in effect filtering. Is it worth spending time with this guy/gal? Could I see myself dealing with him twice a week for the next five years? All you want is for them to say "maybe" internally. That, largely, is the goal. If they hand you a card and say, "Sounds interesting. Get back to me next week", you have scored.
The next step has other challenges, as the pitch is in effect just another step in the long road from page to screen. But mastering the art is one of the most useful skills a copywriter can learn.
If you're attending Cannes or a similar event, call us on +322/644 02 30.