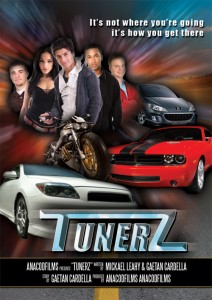 The Write Stuff will be attending Cannes 2010 with three main projects: two scripts in development and a music showreel:
Tunerz is probably Europe's first film about the massive tuning scene. It's a tale of fast cars, and the people that drive them. It's about identity, loyalty and ambition. The tuning scene is a fascinating one, with an underground network of fans right across the continent. "Tunerz" is being co-written With Gaétan Cardella, who is producing it through his Anacod Films company. Visit the Tunerz blog.
Protag is a dark, contemporary coming-of-age thriller, set in the underground of music and webcasts. While searching YouTube for videos to use in concert as a VJ, Protag opens a Pandora's box when he stumbles onto an illegal S&M webcast. From being a viewer, he finds himself being pulled reluctantly closer to the other side of the screen. Co-writer on this one is Patrick Van Hautem, the prolific director of ads.
Both projects are presented in French and English in the early stages. I will also be shopping the showreel of the British composer Herman Martin, who did most of the four series of the animated project "Code: Lyoko" and also has a complete album of nu-jazz tracks for synch purposes.
For news about the markets at Cannes, including Midem and the Cannes Film Festival, see Cannes-or-Bust.