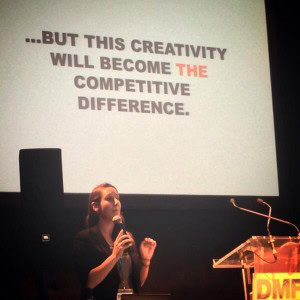 Digital marketing conferences are hardly rare. But the recent Digital Marketing First in Brussels was an opportunity (for me at least) to get a feel for the fast-moving market.
First off, this was a busy day for most of the participants. The visitors had a non-stop selection of presentations to choose from, with the inevitable rush on heavyweights such as Facebook. A quick run around the stands revealed a lot of people huddled in discussion. Talking with people such as Invisible Puppy – now present in three countries – confirmed the overall impression: it's a good time to be a digital agency.
What were the participants talking about? Globally, this was a conference about stuff. Most of the exhibitors could be broken down into either suppliers of specific tools (such as Fingerapps for sales forces, the Anais online business methodology, Tapptic and LikeBoost) or agencies that coordinate all these.
Where were the advertising agencies?
It is noteworthy that not one single advertising agency was present. I'm not sure why. Some of the large digital agencies are clearly positioning themselves as the new advertising agencies and seem to be gobbling up clients. By excluding themselves from the digital debate, the advertising people are leaving the market open to fast-talking agencies with technology on their side.
And let's not forget that digital agencies are accountable in ways that advertising agencies can only dream about. It is easy to define goals in terms of traffic or clicks and see if a digital agency achieves the targets. It is far more difficult to do this with traditional media.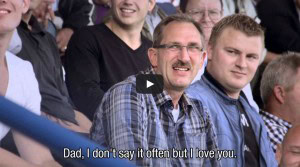 What's the danger?
The danger with all this, however, is that although the mechanics of connecting brands and people are terribly exciting for brands and digital vendors, they remain mechanical.
By contrast, Chloe Markowicz of Contagious gave an overview of this year's Cannes Lions winners. It almost managed to bring tears to the public's eyes not once but twice. The first was the Dove Real Beauty campaign, which everyone has seen by now but remains compelling in its simplicity and execution. The second was Ogilvy & Mather Amsterdam's remarkable Dela campaign for funeral insurance.
…the talking point was not the technology, it was the story
What struck me was that these were very concept-driven campaigns. Both are basically people in front of a camera. In the first, the emotion is very contained but present nonetheless. The Dela campaign positively overflows with emotion, but in a more spontaneous way.
Both campaigns then used new media abundantly to connect with people. But the talking point was not the technology, it was the story.
With all due respect to the digital fraternity – and I've fondly watched you grow from an 8-bit gimmick – it is very, very hard for you to develop this sort of impact without a compelling top-line concept.
This is good news for me as a copywriter and all the creatives I see being laid off from advertising agencies. In the short-term, I see an alliance between the digital agencies that can drive traffic and impact and creatives that can create something that people think are actually worth sharing.
Vive le digital.
Who else was there? What did you think? How do you see digital marketing evolving in the short term?